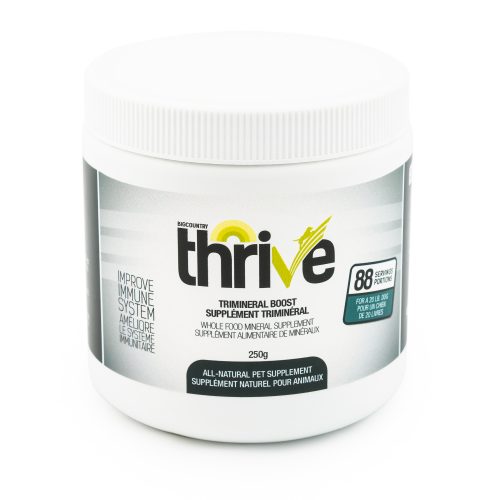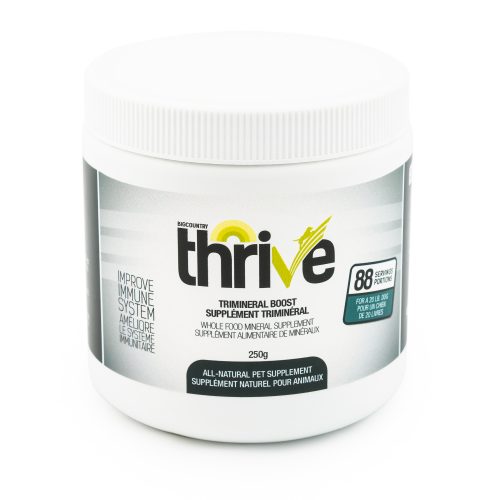 Thrive Trimineral Boost Dog & Cat Supplement, 250-g
Vitamins & Supplements
Price :
CA$19.99
Click Here to check if you`re eligible for Local Delivery
Whole food, all natural supplement for improved health and immune system function in dogs and cats. Contains Kelp, Barley Grass and Spirulina.
Whole Food Multi-Vitamin and Mineral Supplement
100% Natural & Organic Ingredients – Kelp, Barley Grass and Spirulina
Recommended for Dogs, Cats, Puppies, and Kittens of All Sizes
Organic Kelp (50%), Barley Grass (40%), Spirulina(10%)
1.41g per scoop
1 scoop = 1/2 tsp
Kelp is natures perfect sea vegetable, which contains over 60 minerals including; iron, sodium, phosphorus and calcium, magnesium and potassium, as well as vitamins; A, B1, B2, C, D and E, plus amino acids.
Kelp is especially high in iodine, which aids in proper glandular function and metabolism. Especially important for thyroid function and weight loss.
Barley Grass is a rich source of naturally occurring vitamins and minerals, digestive enzymes and essential amino acids important to animal health. Barley Grass also promotes proper digestion and improves breath.
Spirulina* contains a number of unique phytonutrients like phycocyanin, polysaccharides and sulfolipids that enhance the immune system, possibly reducing the risk of infection, cancer and autoimmune disease. It is rich in natural carotenoid antioxidants that promote cellular health and reduce the risk of cancer. It also is a rich source of cleansing chlorophyll which helps detoxify our pets bodies of ever present pollution.
*We source from Earthrise. The leading supplier with the purest Spirulina available. Grown in California.
Ingredients
Organic Kelp (50%), Barley Grass (40%), Spirulina(10%)