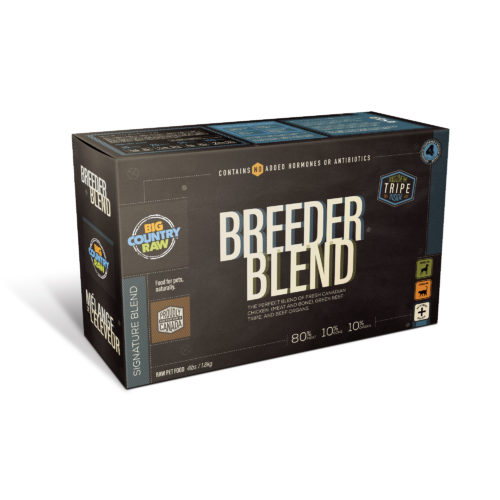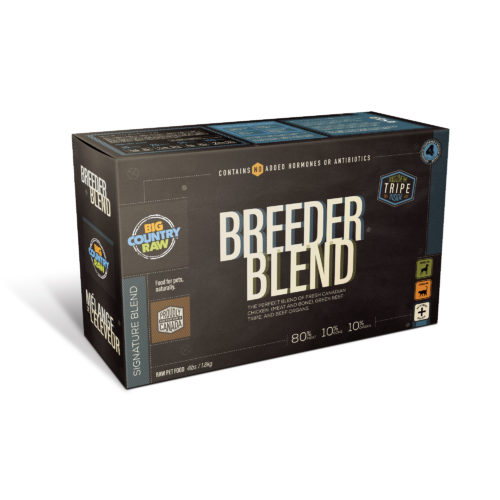 Big Country Raw Breeder Blend, 4-lb
Frozen Food
Price :
$15.99
Click Here to check if you`re eligible for Local Delivery

The perfect blend of fresh Canadian Chicken (meat and bone) with beef tripe and beef organ meats.
Recipe Ratio
80% Muscle Meat
10% Organ meat
10% Ground Bone
A sure to please favourite, Breeder Blend is a must-try for all our customers. Made with Ontario Free Range Chicken and pasture-raised beef tripe, with nutrient-rich beef organ meat, this is one tasty and nutritious meal choice enjoyed by your dog or cat.
Hormone & Antibiotic Free
Canadian Free Range Chicken
Pasture-Raised Beef Tripe
SAFE RAW FOOD HANDLING INSTRUCTIONS:
Keep food frozen and thaw in refrigerator until ready to use.
Raw food must be used within 3 days after thawing
Return unused food back to the refrigerator after serving.
Serve in stainless steel or ceramic dishes.
Wash all work surfaces, utensils, serving spoons and hands with hot water & soap after handling raw meat & poultry.
INGREDIENTS:CHICKEN, GROUND CHICKEN BONE, GREEN BEEF TRIPE, BEEF LIVER, BEEF SPLEEN, BEEF KIDNEY.